Video showing Dark Chocolate with Sea Salt bar breaking showing texture
Dark Chocolate with Sea Salt
Decorative video of ingredients moving around Dark Chocolate with Sea Salt bar
Meet Dark Chocolate with Sea Salt
Dark Chocolate With Sea Salt Peanut Butter Cups are crafted with ingredients like freshly ground peanut butter, wildflower honey, fair trade dark chocolate, and our 20+ superfood blend — to create a snack that's a treat for your whole body. 
And to top it off, every 2-cup pack contains 7 grams of whole food protein. So, what are you waiting for? It's time to let yourself indulge in these one-of-a-kind cups.
Ingredients
INGREDIENTS: Peanut Butter*, Dark Chocolate*† (Cacao Beans*, Cane Sugar*, Cocoa Butter*, Sunflower Lecithin), Honey*, Nonfat Dry Milk*, Rice Protein*, Dried Whole Egg Powder*, Sea Salt, Dried Whole Food Powders (Kale*, Flax Seed*, Rose Hip*, Orange*, Lemon*, Papaya*, Tomato*, Apple*, Alfalfa*, Celery*, Kelp*, Dulse*, Carrot*, Spinach*), Sunflower Lecithin*, Flax Seed Oil*, Sunflower Oil*, Sesame Seed Oil*, Olive Oil*, Pumpkin Seed Oil*.
*Organic †Fair Trade Chocolate
ALLERGEN WARNING: CONTAINS PEANUTS, MILK AND EGGS. PRODUCED ON EQUIPMENT ALSO HANDLING TREE NUTS. MAY CONTAIN OCCASIONAL NUT SHELLS.
Nutritional Information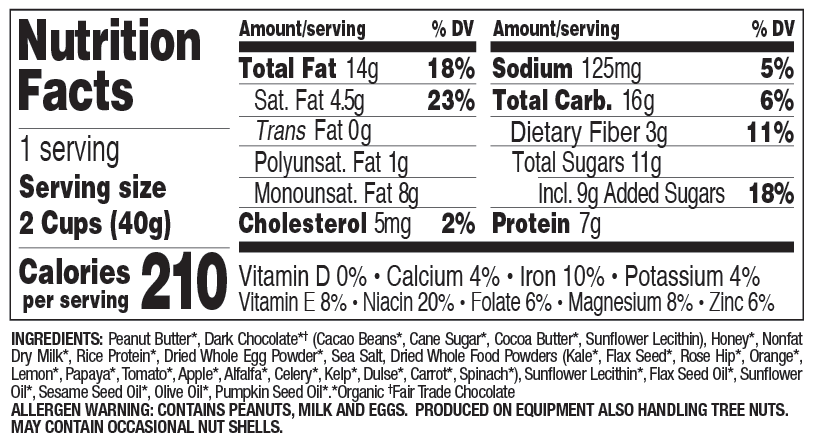 Dark Chocolate with Sea Salt Reviews