Video showing Dark Chocolate Almond bar breaking showing texture
Decorative video of ingredients moving around Dark Chocolate Almond bar
Meet Dark Chocolate Almond
Decadent nutrition coming at you with this crave-worthy chocolate combo! This silky-smooth criminal is our original Almond Butter recipe, including 20 superfoods and whole food protein, then sweetened with rich cocoa powder, vanilla and Fair Trade dark chocolate chips. One bite of this bad boy and you won't want to be good.
Ingredients
INGREDIENTS: Almond Butter, Honey*, Nonfat Dry Milk*, Dark Chocolate*† (Chocolate*, Cane Sugar*, Cocoa Butter*, Sunflower Lecithin), Almond Pieces, Cocoa*, Dried Whole Egg Powder*, Rice Protein*, Vanilla Extract*, Sunflower Lecithin*, Dried Whole Food Powders (Kale*, Flax Seed*, Rose Hip*, Orange*, Lemon*, Papaya*, Tomato*, Apple*, Alfalfa*, Celery*, Kelp*, Dulse*, Carrot*, Spinach*), Flax Seed Oil*, Sunflower Oil*, Sesame Seed Oil*, Olive Oil*, Pumpkin Seed Oil*.
*Organic †Fair Trade Chocolate
ALLERGEN WARNING: CONTAINS ALMONDS, MILK AND EGGS. PRODUCED ON EQUIPMENT ALSO HANDLING PEANUTS AND OTHER TREE NUTS. MAY CONTAIN OCCASIONAL NUT SHELLS.
Nutritional Information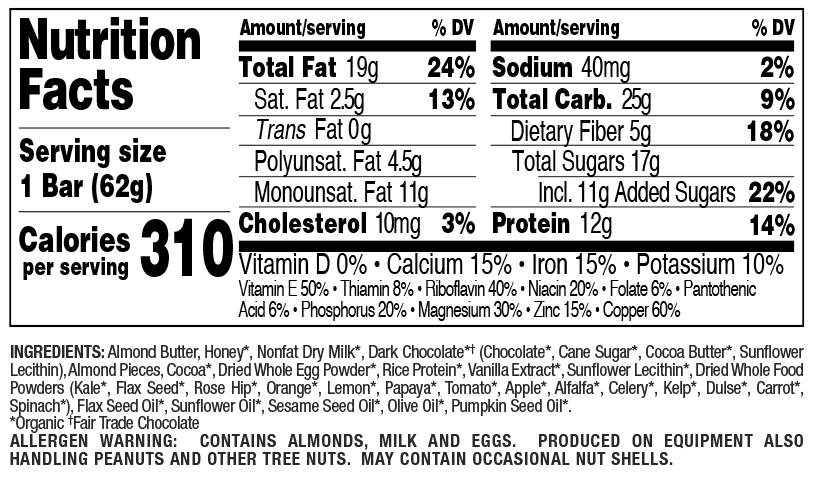 Dark Chocolate Almond Reviews