Video showing Chocolate Hazelnut Crisp bar breaking showing texture
Decorative video of ingredients moving around Chocolate Hazelnut Crisp bar
Meet Chocolate Hazelnut Crisp
Say hello to your new bestie: Chocolate Hazelnut Crisp! With its creamy blend of peanut butter, hazelnut butter, crunchy crisps, and fair trade dark chocolate chips, these protein bars are just what your life is missing.
The eight-count bundle of this decadent flavor was originally intended to celebrate our company's anniversary. But it quickly (and not surprisingly!) became a fan favorite, so we've brought it back as an everyday flavor.
Ingredients
INGREDIENTS: Peanut Butter*, Honey*, Hazelnut Butter, Nonfat Dry Milk*, Dark Chocolate*† (Chocolate*, Cane Sugar*, Cocoa Butter*, Sunflower Lecithin), Crisp Sorghum*, Cocoa*, Dried Whole Egg Powder*, Rice Protein*, Vanilla Extract*, Dried Whole Food Powders (Kale*, Flax Seed*, Rose Hip*, Orange*, Lemon*, Papaya*, Tomato*, Apple*, Alfalfa*, Celery*, Kelp*, Dulse*, Carrot*, Spinach*), Sunflower Lecithin*, Flax Seed Oil*, Sunflower Oil*, Sesame Seed Oil*, Olive Oil*, Pumpkin Seed Oil*.
*Organic †Fair Trade Chocolate
ALLERGEN WARNING: CONTAINS PEANUTS, HAZELNUTS, MILK AND EGGS. PRODUCED ON EQUIPMENT ALSO HANDLING OTHER TREE NUTS. MAY CONTAIN OCCASIONAL NUT SHELLS.
Nutritional Information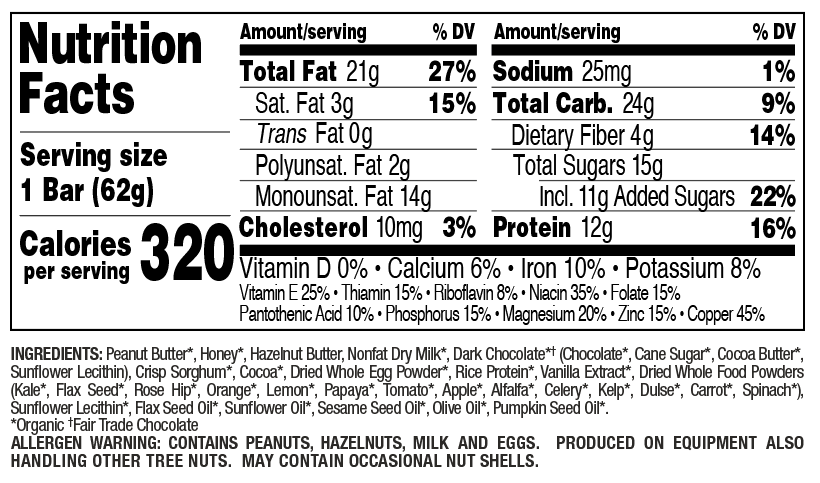 Chocolate Hazelnut Crisp Reviews