Video showing Chocolate Hazelnut Crisp bar breaking showing texture
Decorative video of ingredients moving around Chocolate Hazelnut Crisp bar
Meet Chocolate Hazelnut Crisp
Say hello to your new bestie: Chocolate Hazelnut Crisp! With its creamy blend of peanut butter, hazelnut butter, crunchy crisps, and dark chocolate chips, these protein bars are just what your life is missing. 
The eight-count bundle of this decadent flavor was originally intended to celebrate our company's anniversary. But it quickly (and not surprisingly!) became a fan favorite, so we've brought it back as an everyday flavor.
Ingredients
INGREDIENTS: Peanut Butter*, Honey*, Hazelnut Butter, Nonfat Dry Milk*, Dark Chocolate* (Chocolate*†, Cane Sugar*†, Cocoa Butter*†), Crisp Sorghum*, Cocoa*, Dried Whole Egg Powder*, Rice Protein*, Vanilla Extract*, Dried Whole Food Powders (Kale*, Flax Seed*, Rose Hip*, Orange*, Lemon*, Papaya*, Tomato*, Apple*, Alfalfa*, Celery*, Kelp*, Dulse*, Carrot*, Spinach*), Flax Seed Oil*, Sunflower Oil*, Sesame Seed Oil*, Olive Oil*, Pumpkin Seed Oil*.
*Organic †Fair Trade Ingredients
ALLERGEN WARNING: CONTAINS PEANUTS, HAZELNUTS, MILK, EGGS AND SESAME. PRODUCED ON EQUIPMENT ALSO HANDLING OTHER TREE NUTS. MAY CONTAIN OCCASIONAL NUT SHELLS.
Nutritional Information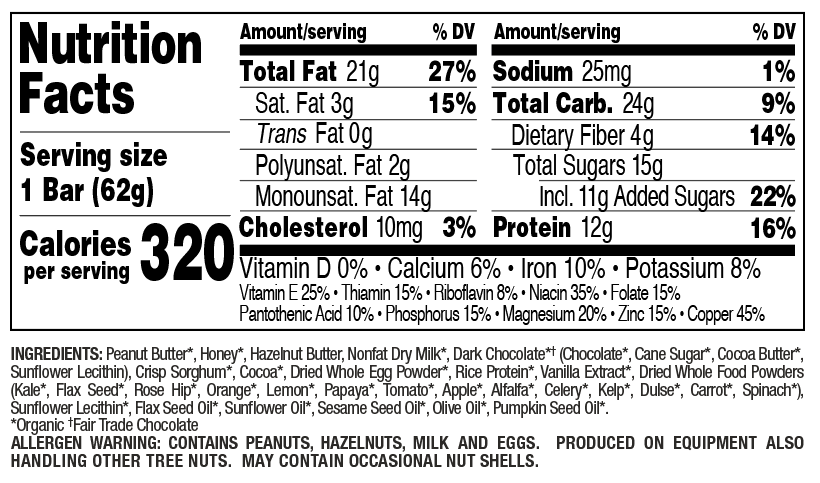 Chocolate Hazelnut Crisp Reviews