Video showing Coconut Peanut Butter bar breaking showing texture
Decorative video of ingredients moving around Coconut Peanut Butter bar
Meet Coconut Peanut Butter
We're a bit nutty around here, but this island-inspired recipe has us going completely coconuts! Kick off your shoes and enjoy this blend of creamy organic peanut butter, organic honey and real shredded coconut pieces. And, with whole food protein and 20 organic superfoods, each blissful bite will transport you to an island oasis (umbrella straw not included).
Ingredients
INGREDIENTS: Peanut Butter*, Honey*, Nonfat Dry Milk*, Coconut*, Dried Whole Egg Powder*, Coconut Oil*, Rice Protein*, Dried Whole Food Powders (Kale*, Flax Seed*, Rose Hip*, Orange*, Lemon*, Papaya*, Tomato*, Apple*, Alfalfa*, Celery*, Kelp*, Dulse*, Carrot*, Spinach*), Sunflower Lecithin*, Flax Seed Oil*, Sunflower Oil*, Sesame Seed Oil*, Olive Oil*, Pumpkin Seed Oil*.
*Organic
ALLERGEN WARNING: CONTAINS PEANUTS, MILK, COCONUT AND EGGS. PRODUCED ON EQUIPMENT ALSO HANDLING OTHER TREE NUTS. MAY CONTAIN OCCASIONAL NUT SHELLS.
Nutritional Information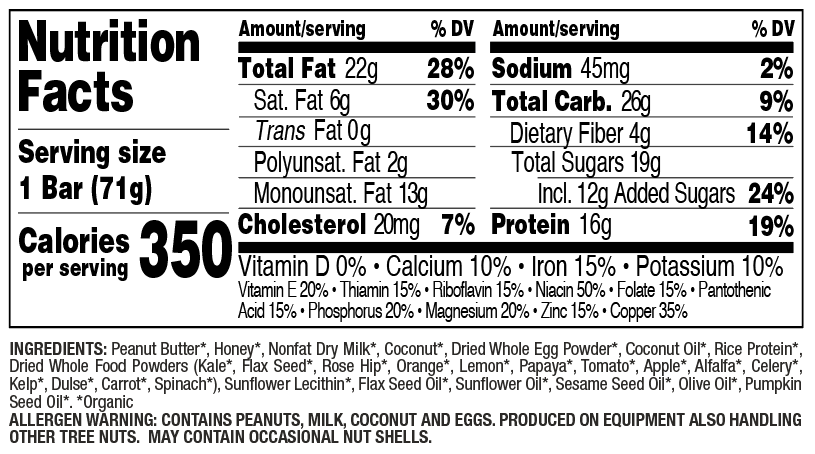 Coconut Peanut Butter Reviews