Video showing Coconut Peanut Butter bar breaking showing texture
Decorative video of ingredients moving around Coconut Peanut Butter bar
Meet Coconut Peanut Butter
We're already a bit nutty around here, but this island-inspired recipe has us going completely coconuts! Take a moment to unwind and relax with our perfect blend of creamy, organic peanut butter, organic honey, and real shredded coconut — you earned this slice of paradise!
And with a whopping 16 grams of whole food protein plus 20+ superfood ingredients in each bar, every blissful bite will transport you to an island oasis (umbrella straw not included).
Ingredients
INGREDIENTS: Peanut Butter*, Honey*, Nonfat Dry Milk*, Coconut*, Dried Whole Egg Powder*, Coconut Oil*, Rice Protein*, Dried Whole Food Powders (Kale*, Flax Seed*, Rose Hip*, Orange*, Lemon*, Papaya*, Tomato*, Apple*, Alfalfa*, Celery*, Kelp*, Dulse*, Carrot*, Spinach*), Flax Seed Oil*, Sunflower Oil*, Sesame Seed Oil*, Olive Oil*, Pumpkin Seed Oil*.
*Organic
ALLERGEN WARNING: CONTAINS PEANUTS, MILK, COCONUT, EGGS AND SESAME. PRODUCED ON EQUIPMENT ALSO HANDLING OTHER TREE NUTS. MAY CONTAIN OCCASIONAL NUT SHELLS.
Nutritional Information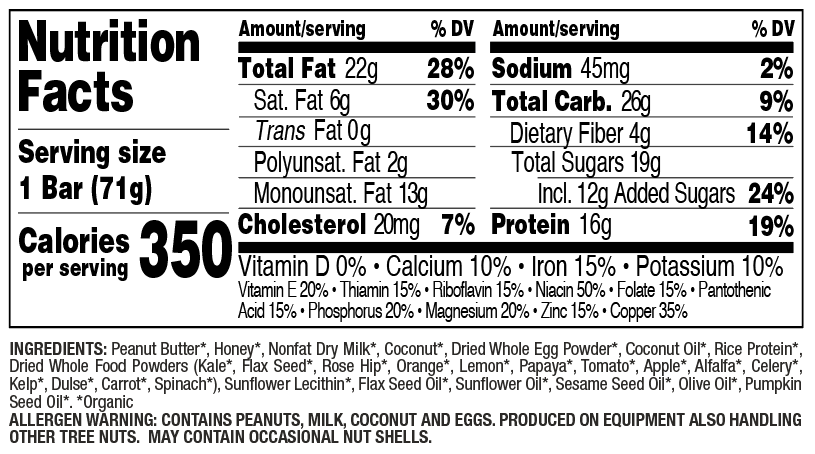 Coconut Peanut Butter Reviews