Meet Peanut Butter Snack Size
Our original family protein bar recipe, now snack-size! Made with freshly ground peanut butter, organic honey and 20+ superfoods, Perfect Bar Snack Size is the solution to your snacking needs. Whether you're heading home from the gym or recharging after school, our snack-size bars will give your family the nutritious push they need to stay fueled and happy throughout the day. With Perfect Bar Snack Size, a little goes a long way.
Ingredients
INGREDIENTS: Peanut Butter*, Honey*, Nonfat Dry Milk*, Dried Whole Egg Powder*, Rice Protein*, Dried Whole Food Powders (Kale*, Flax Seed*, Rose Hip*, Orange*, Lemon*, Papaya*, Tomato*, Apple*, Alfalfa*, Celery*, Kelp*, Dulse*, Carrot*, Spinach*), Sunflower Lecithin*, Flax Seed Oil*, Sunflower Oil*, Sesame Seed Oil*, Olive Oil*, Pumpkin Seed Oil*.
*Organic
ALLERGEN WARNING: CONTAINS PEANUTS, MILK AND EGGS. PRODUCED ON EQUIPMENT ALSO HANDLING TREE NUTS. MAY CONTAIN OCCASIONAL NUT SHELLS.
Nutritional Information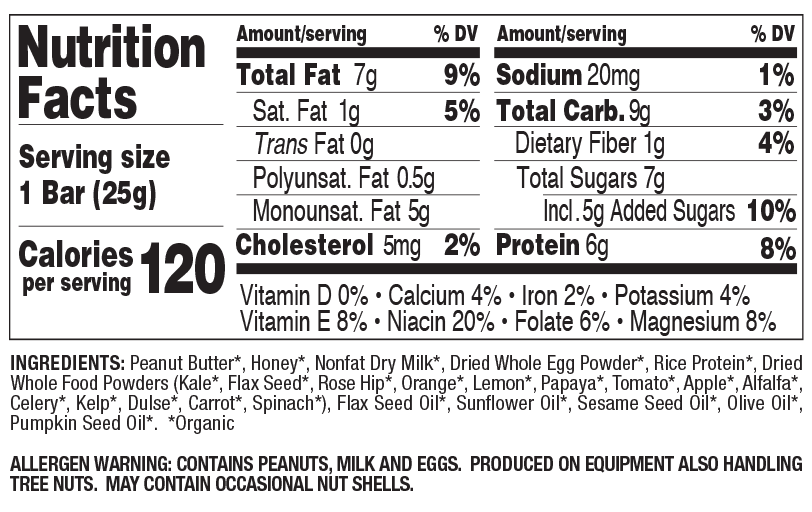 Peanut Butter Snack Size Reviews