Meet Peanut Butter Snack Size
Simple, easy, tasty, and now snack-sized! We know you don't always have time to plan out every meal or snack. That's why we love this new pocket-sized Perfect Bar that packs 6 grams of whole food protein and all 20+ superfoods you've grown to love. Satiate your cravings no matter where you are with Snack Size Peanut Butter.
Ingredients
INGREDIENTS: Peanut Butter*, Honey*, Nonfat Dry Milk*, Dried Whole Egg Powder*, Rice Protein*, Dried Whole Food Powders (Kale*, Flax Seed*, Rose Hip*, Orange*, Lemon*, Papaya*, Tomato*, Apple*, Alfalfa*, Celery*, Kelp*, Dulse*, Carrot*, Spinach*), Flax Seed Oil*, Sunflower Oil*, Sesame Seed Oil*, Olive Oil*, Pumpkin Seed Oil*.
*Organic
ALLERGEN WARNING: CONTAINS PEANUTS, MILK, EGGS AND SESAME. PRODUCED ON EQUIPMENT ALSO HANDLING TREE NUTS. MAY CONTAIN OCCASIONAL NUT SHELLS.
Nutritional Information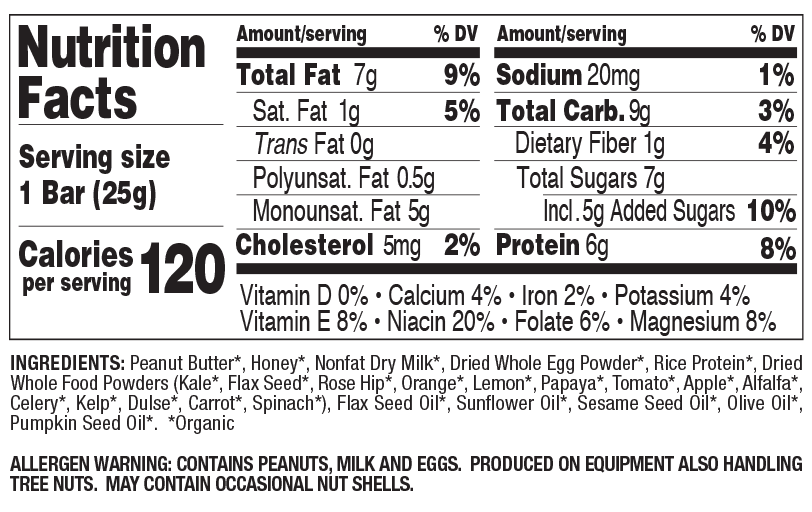 Peanut Butter Snack Size Reviews