Perfect Bar
Perfect Bar is a delicious refrigerated protein bar made with freshly-ground nut butter, organic honey, and 20+ superfoods - plus they have a cookie-dough texture that's unlike any other protein bar.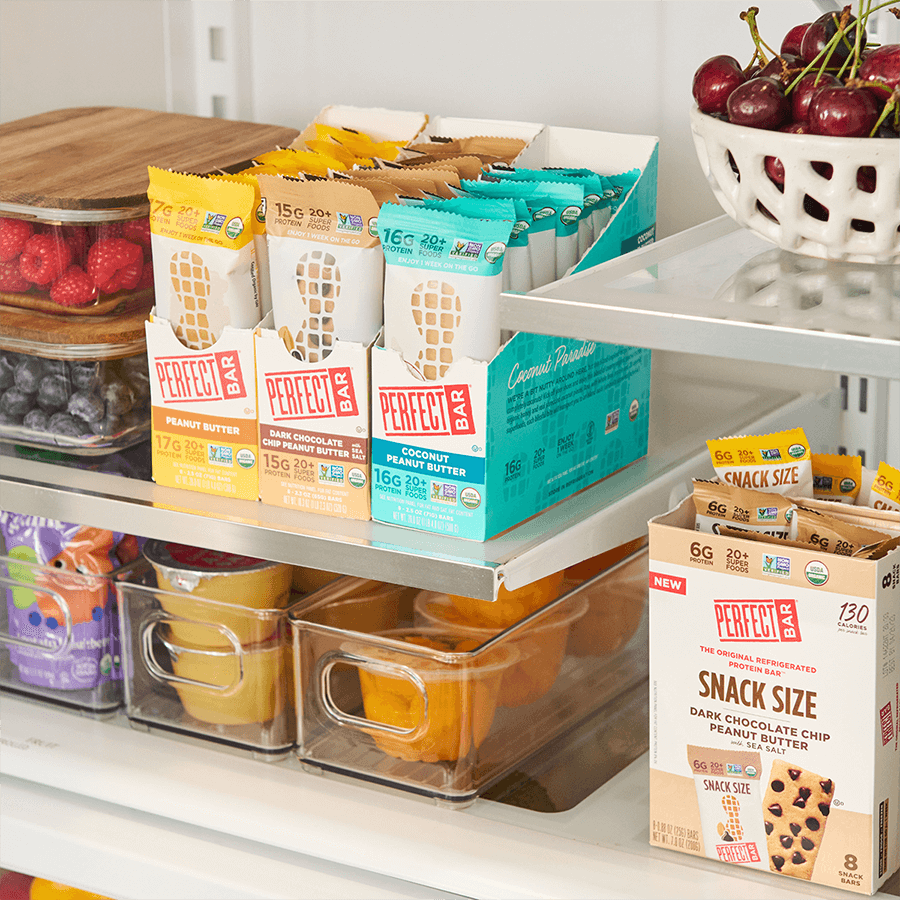 Pure Barre
Pure Barre is a full-body workout that transforms you physically and mentally. Our musically driven group classes focus on low-impact, high-intensity movements that strengthen and tone your body in 50 minutes or less.
New to Pure Barre? Experience a Free Barre Intro Class at your local studio! Click Here to Book your Pure Barre Foundations Class.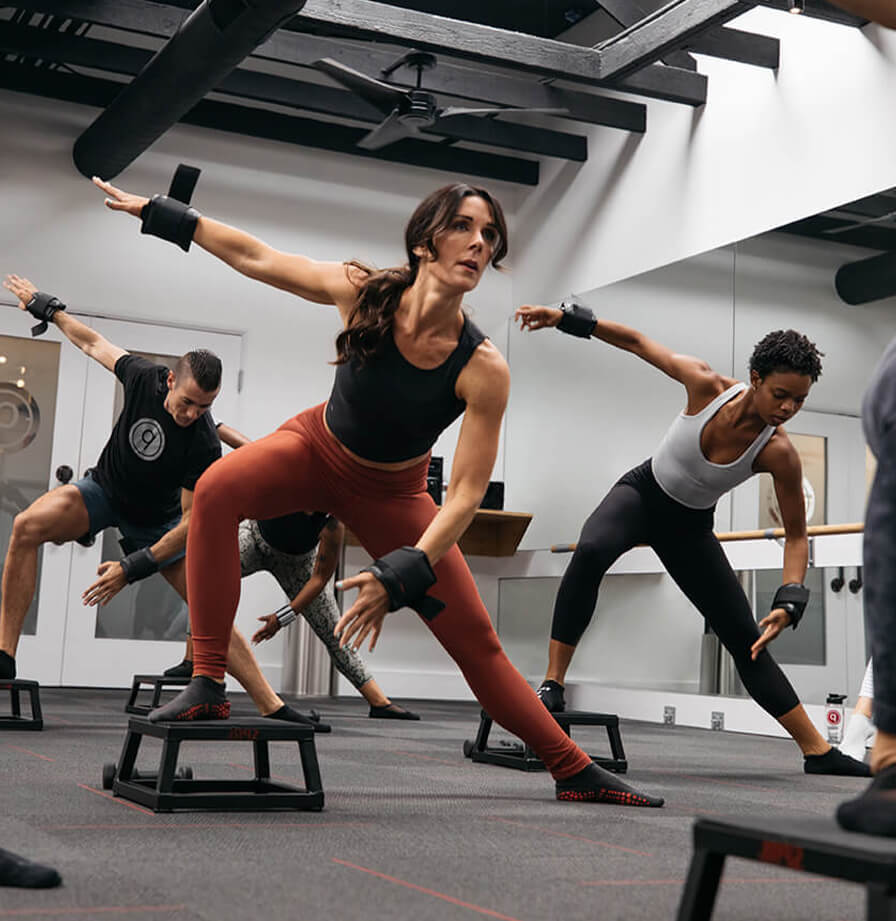 Pure Barre X Perfect Bar Fridge Tour
Get excited - Perfect Bar is coming to a Pure Barre studio near you! You'll have the chance to try our refrigerated protein bars at 170+ local Pure Barre studios. Find out if we'll be coming to your city in 2023 with the map below.
| | | |
| --- | --- | --- |
| Date | Name | Address |
| 1/9/23 - 1/20/23 | Pure Barre Hillcrest | 3650 5th Avenue Suite 102, San Diego CA |
| 1/9/23 - 1/20/23 | Pure Barre Eastlake | 884 Eastlake Parkway Suite 1624, Chula Vista CA 92103 |
| 1/9/23 - 1/20/23 | Pure Barre Del Mar | 5965 Village Way Suite E202, San Diego CA 91914 |
| 1/9/23 - 1/20/23 | Pure Barre Carlsbad | 6965 El Camino Real Suite 205, Carlsbad CA 92130 |
| 1/9/23 - 1/20/23 | Pure Barre La Jolla | 7863 Girard Avenue Suite 101, La Jolla CA 92009 |
| 1/9/23 - 1/20/23 | Pure Barre North Carlsbad | 1850 Marron Road Suite 104, Carlsbad CA 92037 |
| 1/9/23 - 1/20/23 | Pure Barre East Village | 635 7th Avenue , San Diego CA 92008 |
| 1/9/23 - 1/20/23 | San Diego | Eastlake | 884 Eastlake Parkway Suite 1624, Chula Vista CA 92101 |
| 1/30/23 - 2/10/23 | Pure Barre Goodyear | 15560 W Roosevelt Street Unit B104, Goodyear AZ |
| 1/30/23 - 2/10/23 | Pure Barre Phoenix | 4219 E Indian School Road Suite 101, Phoenix AZ 85338 |
| 1/30/23 - 2/10/23 | Pure Barre Central Phoenix | 5505 N 7th Street Suite 130, Phoenix AZ 85018 |
| 1/30/23 - 2/10/23 | Pure Barre North Scottsdale | 7000 E Mayo Boulevard Suite 1004, Scottsdale AZ 85014 |
| 1/30/23 - 2/10/23 | Pure Barre Chandler | 2055 West Frye Road Suite 5, Chandler AZ 85054 |
| 1/30/23 - 2/10/23 | Pure Barre Tucson | Casas Adobes | 7121 North Oracle Road , Tucson AZ 85224 |
| 1/30/23 - 2/10/23 | Pure Barre Tempe | 1120 E. Baseline Road Suite 103, Tempe AZ 85704 |
| 1/30/23 - 2/10/23 | Pure Barre Paradise Valley | 10810 N. Tatum Boulevard Unit 148, Phoenix AZ 85283 |
| 1/30/23 - 2/10/23 | Pure Barre Dana Park | 1854 S Val Vista Drive , Mesa AZ 85028 |
| 1/30/23 - 2/10/23 | Pure Barre Arrowhead | 19420 N 59th Avenue Suite H 820, Glendale AZ 85204 |
| 2/20/23 - 3/3/23 | Pure Barre Littleton | 7403 West Chatfield Avenue Suite C, Littleton CO |
| 2/20/23 - 3/3/23 | Pure Barre Belmar | 7420 West Alaska Drive Space 511, Lakewood CO 80128 |
| 2/20/23 - 3/3/23 | Pure Barre Denver | Cherry Creek | 201 University Boulevard Suite 107, Denver CO 80226 |
| 2/20/23 - 3/3/23 | Pure Barre Southlands | 24300 E Smoky Hill Road #110, Aurora CO 80206 |
| 2/20/23 - 3/3/23 | Pure Barre Highlands Ranch | 9362 South Colorado Boulevard Suite D-12, Lone Tree CO 80016 |
| 2/20/23 - 3/3/23 | Pure Barre Denver | Highlands | 3420 West 32nd Avenue Suite 103, Denver CO 80126 |
| 2/20/23 - 3/3/23 | Pure Barre Denver | Greenwood Village | 5375 Landmark Place Suite 109, Greenwood Village CO 80211 |
| 2/20/23 - 3/3/23 | Pure Barre Fort Collins | 2948 Council Tree Avenue Suite 119, Fort Collins CO 80111 |
| 2/20/23 - 3/3/23 | Pure Barre Broomfield | 11961 Bradburn Boulevard Suite 500, Westminster CO 80525 |
| 2/20/23 - 3/3/23 | Pure Barre Boulder | 1750 29th Street Suite 2026, Boulder CO 80031 |
| 3/13/23 - 3/24/23 | Pure Barre Allen | 972 Village Green Drive , Allen TX |
| 3/13/23 - 3/24/23 | Pure Barre Addison | 5000 Belt Line Road Suite 200, Addison TX 75013 |
| 3/13/23 - 3/24/23 | Pure Barre Fort Worth | 3400 West 7th Street , Fort Worth TX 75254 |
| 3/13/23 - 3/24/23 | Pure Barre Murphy | 511 E Farm to Market Road 544 Suite 109, Murphy TX 76107 |
| 3/13/23 - 3/24/23 | Pure Barre McKinney | 6840 Virginia Parkway Suite 135, McKinney TX 75094 |
| 3/13/23 - 3/24/23 | Pure Barre Flower Mound | 5801 Long Prairie Road Suite 825, Flower Mound TX 75071 |
| 3/13/23 - 3/24/23 | Pure Barre Dallas | Uptown | 3700 McKinney Avenue Suite 130, Dallas TX 75028 |
| 3/13/23 - 3/24/23 | Pure Barre Prosper | 1921 N. Preston Road Suite 70, Prosper TX 75204 |
| 3/13/23 - 3/24/23 | Pure Barre Dallas | University Park | 5919 Greenville Avenue , Dallas TX 75078 |
| 3/13/23 - 3/24/23 | Pure Barre Plano | 3450 East Hebron Parkway Suite 116, Plano TX 75206 |
| 4/2/23 - 4/14/23 | Pure Barre Austin | Cedar Park | 1525 Cypress Creek Road Suite H, Cedar Park TX |
| 4/2/23 - 4/14/23 | Pure Barre Austin | Westlake | 3267 Bee Caves Road Suite 120, Austin TX 78613 |
| 4/2/23 - 4/14/23 | Pure Barre Southwest Austin | 4301 W. William Cannon Drive Building B, Suite 114, Austin TX 78746 |
| 4/2/23 - 4/14/23 | Pure Barre Austin | Domain | 11410 Century Oaks Terrace Suite 146, Austin TX 78749 |
| 4/2/23 - 4/14/23 | Pure Barre Austin | Lakeway | 2300 Lohman's Spur Suite 186, Austin TX 78758 |
| 4/2/23 - 4/14/23 | Pure Barre Austin Eastside | 1401 E 6th Street Suite 101, Austin TX 78734 |
| 4/2/23 - 4/14/23 | Pure Barre Huebner Commons | 11703 Huebner Road Suite 112, San Antonio TX 78702 |
| 4/2/23 - 4/14/23 | Pure Barre New Braunfels | 1551 N Walnut Avenue Suite 5, New Braunfels TX 78230 |
| 4/2/23 - 4/14/23 | Pure Barre San Antonio | Stone Oak | 21019 US Highway 281 South Suite 826, San Antonio TX 78130 |
| 4/2/23 - 4/14/23 | Pure Barre Alamo Heights | 5500 Broadway , Alamo Heights TX 78258 |
| 4/24/23 - 5/5/23 | Pure Barre Houston | The Heights | 1436 Studewood Street , Houston TX |
| 4/24/23 - 5/5/23 | Pure Barre The Woodlands | Hughes Landing | 1950 Hughes Landing Boulevard Suite 1600, The Woodlands TX 77008 |
| 4/24/23 - 5/5/23 | Pure Barre Katy | 2717 Commercial Center Blvd Suite D-140, Katy TX 77380 |
| 4/24/23 - 5/5/23 | Pure Barre Creekside | 26435 Kuykendahl Road Suite 350, Tomball TX 77494 |
| 4/24/23 - 5/5/23 | Pure Barre Kingwood | 4525 Kingwood Drive Suite 140, Kingwood TX 77375 |
| 4/24/23 - 5/5/23 | Pure Barre College Station | 915 William D Fitch Parkway Suite 100, College Station TX 77345 |
| 4/24/23 - 5/5/23 | Pure Barre Sugar Land | 4857 Sweetwater Boulevard , Sugar Land TX 77845 |
| 4/24/23 - 5/5/23 | Pure Barre Spring | 10300 Louetta Road Unit 124, Houston TX 77479 |
| 4/24/23 - 5/5/23 | Pure Barre Houston | Voss Road | 1379 South Voss Road Suite B, Houston TX 77070 |
| 4/24/23 - 5/5/23 | Pure Barre Houston | West U | 2429 University Boulevard , Houston TX 77057 |
| 5/15/23 - 5/26/23 | Pure Barre Weston | 4575 Weston Road , Weston FL |
| 5/15/23 - 5/26/23 | Pure Barre Miami - Coral Gables | 205 Altara Ave , Coral Gables FL 33331 |
| 5/15/23 - 5/26/23 | Pure Barre Miami | Midtown | 192 NE 32nd St , Miami FL 33146 |
| 5/15/23 - 5/26/23 | Pure Barre Pinecrest | 11349 S Dixie Hwy , Pinecrest FL 33137 |
| 5/15/23 - 5/26/23 | Pure Barre Jupiter | 6240 Indiantown Road Suite 6, Jupiter FL 33156 |
| 5/15/23 - 5/26/23 | Pure Barre Pembroke Pines | 14822 Pine Boulevard , Pembroke Pines FL 33458 |
| 5/15/23 - 5/26/23 | Pure Barre West Boca | 9834 Glades Road , Boca Raton FL 33027 |
| 5/15/23 - 5/26/23 | Pure Barre Palm Beach Gardens | 11290 Legacy Avenue Suite K120, Palm Beach Gardens FL 33434 |
| 5/15/23 - 5/26/23 | Pure Barre Boynton Beach | 200 E Woolbright Road Suite 522, Boynton Beach FL 33410 |
| 6/5/23 - 6/16/23 | Pure Barre Winter Garden | 15835 Shaddock Dr Unit 140, Winter Garden FL |
| 6/5/23 - 6/16/23 | Pure Barre Lakeland | 1314 Town Center Drive S-102, Lakeland FL 34787 |
| 6/5/23 - 6/16/23 | Pure Barre Mills Park | 1430 N Mills Ave Suite 160, Orlando FL 33803 |
| 6/5/23 - 6/16/23 | Pure Barre Orlando | 7339 West Sand Lake Road Suite 412, Orlando FL 32803 |
| 6/5/23 - 6/16/23 | Pure Barre Lake Mary | 120 International Pkwy Suite 184, Lake Mary FL 32819 |
| 6/5/23 - 6/16/23 | Pure Barre Viera | 6555 N Wickham Road Building 2 | Unit 105, Melbourne FL 32746 |
| 6/5/23 - 6/16/23 | Pure Barre Orlando - Lake Nona | 10775 Narcoossee Road Unit 90 , Orlando FL 32940 |
| 6/5/23 - 6/16/23 | Pure Barre Clermont | 900 Hooks St #200, Clermont FL 32832 |
| 6/5/23 - 6/16/23 | Pure BarreOviedo | 935 Oviedo Blvd Suite 1003, Oviedo FL 34711 |
| 6/26/23 - 7/7/23 | Pure Barre Vinings | 4300 Paces Ferry Rd SE Suite 476, Atlanta GA |
| 6/26/23 - 7/7/23 | Pure Barre Virgina Highlands | 1402 North Highland Avenue Northeast Suite 4, Atlanta GA 30339 |
| 6/26/23 - 7/7/23 | Pure Barre Brookhaven | 1441 Dresden Dr NE Suite 140, Atlanta GA 30306 |
| 6/26/23 - 7/7/23 | Pure Barre Inman Park | 240 North Highland Avenue Northeast , Atlanta GA 30319 |
| 6/26/23 - 7/7/23 | Pure Barre Westside | 1100 Howell Mill Rd Suite A07, Atlanta GA 30307 |
| 6/26/23 - 7/7/23 | Pure Barre Decatur | 415 Church St , Decatur GA 30318 |
| 6/26/23 - 7/7/23 | Pure Barre Buckhead | 3145 Peachtree Rd Suite 169, Atlanta GA 30030 |
| 6/26/23 - 7/7/23 | Pure Barre Dunwoody | 5539 Chamblee Dunwoody Rd , Dunwoody GA 30305 |
| 6/26/23 - 7/7/23 | Pure Barre Chastain | 4920 Roswell Rd NE Suite 10-A, Atlanta GA 30338 |
| 6/26/23 - 7/7/23 | Pure Barre Druid Hills | 2951 N Druid Hills Rd , Druid Hills GA 30342 |
| 7/17/23 - 7/28/23 | Pure Barre Spring Hill | 4816 Main Street Suite D, Spring Hill TN |
| 7/17/23 - 7/28/23 | Pure Barre Franklin | 1556 West McEwen Drive Suite 138, Franklin TN 37174 |
| 7/17/23 - 7/28/23 | Pure Barre Nashville (Green Hills) | 2101 Bandywood Dr , Green Hills TN 37067 |
| 7/17/23 - 7/28/23 | Pure Barre Franklin | Westhaven | 158 Front Street Suite 102, Franklin TN 37215 |
| 7/17/23 - 7/28/23 | Pure Barre Brentwood | TN | 330 Franklin Road Suite 137A, Brentwood TN 37064 |
| 7/17/23 - 7/28/23 | Pure Barre Nashville (The Gluch) | 228 11th Ave S , Nashville TN 37027 |
| 7/17/23 - 7/28/23 | Pure Barre West Nashville | 4101 Charlotte Ave Suite 115, Nashville TN 37203 |
| 7/17/23 - 7/28/23 | Pure Barre Hendersonville | 300 Indian Lake Blvd. , Hendersonville TN 37209 |
| 7/17/23 - 7/28/23 | Pure Barre Knoxville | 133 South Forest Park Boulevard , Knoxville TN 37075 |
| 7/17/23 - 7/28/23 | Pure Barre Farragut | 105 S Campbell Station Road , Farragut TN 37919 |
| 8/7/23 - 8/18/23 | Pure Barre Baltimore | Roland Park | 711 W 40th Street Suite 158, Baltimore MD |
| 8/7/23 - 8/18/23 | Pure Barre Washington | Dupont Circle | 2130 P Street NW , Washington DC 21211 |
| 8/7/23 - 8/18/23 | Pure Barre Columbia | MD | 8801-1 Centre Park Drive , Columbia MD 20037 |
| 8/7/23 - 8/18/23 | Pure Barre Washington | Cathedral Commons | 3308 Wisconsin Avenue NW Suite 4, 2nd Floor, Washington DC 21045 |
| 8/7/23 - 8/18/23 | Pure Barre Maple Lawn | 8175 Westside Boulevard Suite B, Fulton MD 20016 |
| 8/7/23 - 8/18/23 | Pure Barre Washington | Capitol Hill | 407 8th Street SE 2nd floor, Washington DC 20759 |
| 8/7/23 - 8/18/23 | Pure Barre Pikesville | 1809 Reisterstown Road Suite 149, Pikesville MD 20003 |
| 8/7/23 - 8/18/23 | Pure Barre Bethesda | 4930 Hampden Lane , Bethesda MD 21208 |
| 8/7/23 - 8/18/23 | Pure Barre Baltimore | Roland Park | 711 W 40th Street Suite 158, Baltimore MD 20814 |
| 8/7/23 - 8/18/23 | Pure Barre Washington | Dupont Circle | 2130 P Street NW , Washington DC 21211 |
| 8/28/23 - 9/8/23 | Pure Barre Waterford | 903 Hartford Turnpike Suite 27, Waterford CT |
| 8/28/23 - 9/8/23 | Pure Barre Edgewater | 905 River Road , Edgewater NJ 6385 |
| 8/28/23 - 9/8/23 | Pure Barre Upper East Side | 1325B Lexington Avenue , New York NY 7020 |
| 8/28/23 - 9/8/23 | Pure Barre Danbury | 115 Mill Plain Road , Danbury CT 10128 |
| 8/28/23 - 9/8/23 | Pure Barre Bridgewater | 3150 State Highway Route 22 Unit 3, Branchburg NJ 6811 |
| 8/28/23 - 9/8/23 | Pure Barre Greenwich | 280 Railroad Avenue 1st Floor, Greenwich CT 8876 |
| 8/28/23 - 9/8/23 | Pure Barre Jersey City | 207 Van Vorst Street , Jersey City NJ 6830 |
| 8/28/23 - 9/8/23 | Pure Barre Union Square | 78 5th Avenue 4th Floor, New York NY 7302 |
| 8/28/23 - 9/8/23 | Pure Barre Upper West Side | 412 Columbus Avenue , New York NY 10011 |
| 8/28/23 - 9/8/23 | Pure Barre Upper East Side | Second Avenue | 1237 2nd Avenue , New York NY 10024 |
| 9/18/23 - 9/29/23 | Pure Barre South Elgin | 454 Redington Drive Suite G, South Elgin IL 60177 |
| 9/18/23 - 9/29/23 | Pure Barre Naperville | 50 S Main St Suite 112, Naperville IL 60540 |
| 9/18/23 - 9/29/23 | Pure Barre Evanston | 910 Church Street , Evanston IL 60201 |
| 9/18/23 - 9/29/23 | Pure Barre Lincoln Square | 2309 W Lawrence Avenue , Chicago IL 60625 |
| 9/18/23 - 9/29/23 | Pure Barre Geneva | 500 S Third Street Suite 123, Geneva IL 60134 |
| 9/18/23 - 9/29/23 | Pure Barre Lakeview | 3245 North Ashland Avenue Unit 1, Chicago IL 60657 |
| 9/18/23 - 9/29/23 | Pure Barre Bucktown Wicker Park | 1837 W North Avenue , Chicago IL 60622 |
| 9/18/23 - 9/29/23 | Pure Barre West Loop | 1170 West Madison Street , Chicago IL 60622 |
| 9/18/23 - 9/29/23 | Pure Barre Old Town | 1350 North Wells Street Suite 4, Chicago IL 60610 |
| 9/18/23 - 9/29/23 | Pure Barre South Barrington | 4650 Hoffman Boulevard , Hoffman Estates IL 60192 |
| 10/9/23 - 10/20/23 | Pure Barre Seattle | Green Lake | 406 NE 71st Street , Seattle WA |
| 10/9/23 - 10/20/23 | Pure Barre Kirkland | 12675 120th Ave NE Suite 197, Kirkland WA 98115 |
| 10/9/23 - 10/20/23 | Pure Barre Sammamish | 22526 South East 4th Street Suite A, Sammamish WA 98034 |
| 10/9/23 - 10/20/23 | Pure Barre Bellevue | 909 112th Avenue NE Suite 107, Bellevue WA 98074 |
| 10/9/23 - 10/20/23 | Pure Barre Seattle | Capitol Hill | 1222 East Pine Street , Capitol Hill WA 98004 |
| 10/9/23 - 10/20/23 | Pure Barre Redmond | 16015 Cleveland Streeet , Redmond WA 98122 |
| 10/9/23 - 10/20/23 | Pure Barre Seattle | Queen Anne | 500 Mercer Street Suite c205, Seattle WA 98052 |
| 10/9/23 - 10/20/23 | Pure Barre Lynnwood | 19723 Highway 99 Suite B, Lynnwood WA 98109 |
| 10/9/23 - 10/20/23 | Pure Barre Puyallup | 4417 S Meridian Street Suite B, Puyallup WA 98036 |
| 10/9/23 - 10/20/23 | Pure Barre Vancouver | Grand Central | 2410 Columbia House Boulevard Suite 102, Vancouver WA 98373 |
| 10/30/23 - 11/10/23 | Pure Barre West Portal | 162 W Portal Ave , San Francisco CA |
| 10/30/23 - 11/10/23 | Pure Barre Noe Valley | 3800 24th Street , San Francisco CA 94127 |
| 10/30/23 - 11/10/23 | Pure Barre Burlingame | 1440 Chapin Avenue Suite 100, Burlingame CA 94114 |
| 10/30/23 - 11/10/23 | Pure Barre Novato | 208 Vintage Way , Novato CA 94010 |
| 10/30/23 - 11/10/23 | Pure Barre Oakland | Uptown | 1715 Webster Street , Oakland CA 94945 |
| 10/30/23 - 11/10/23 | Pure Barre Palo Alto | 299 S California Avenue , Palo Alto CA 94612 |
| 10/30/23 - 11/10/23 | Pure Barre Mill Valley | 800 Redwood Highway Suite 616, Mill Valley CA 94306 |
| 10/30/23 - 11/10/23 | Pure Barre Los Gatos | 50 University Avenue Suite B-101, Los Gatos CA 94941 |
| 10/30/23 - 11/10/23 | Pure Barre San Rafael | 315 3rd Street , San Rafael CA 95030 |
| 10/30/23 - 11/10/23 | Pure Barre Berkeley | 2055 Center Street Suite C, Berkeley CA 94901 |
| 11/20/23 - 12/1/23 | Pure Barre Beverly Hills | 231 S La Cienega Boulevard , Beverly Hills CA |
| 11/20/23 - 12/1/23 | Pure Barre North Hollywood | 4929 Lankershim Boulevard Unit D, North Hollywood CA 90211 |
| 11/20/23 - 12/1/23 | Pure Barre Redondo Beach | 403 North Pacific Coast Highway Suite 200, Redondo Beach CA 91601 |
| 11/20/23 - 12/1/23 | Pure Barre Marina Del Rey | 13175 Mindanao Way Suite A-2, Marina Del Rey CA 90277 |
| 11/20/23 - 12/1/23 | Pure Barre Culver City | 8985 Venice Boulevard Suite E&F, Los Angeles CA 90292 |
| 11/20/23 - 12/1/23 | Pure Barre Woodland Hills | 21728 Ventura Boulevard , Woodland Hills CA 90034 |
| 11/20/23 - 12/1/23 | Pure Barre Santa Monica | 201 Wilshire Boulevard Suite 120, Santa Monica CA 91364 |
| 11/20/23 - 12/1/23 | Pure Barre Hollywood | 7519 W. Sunset Boulevard , Hollywood CA 90401 |
| 11/20/23 - 12/1/23 | Pure Barre Brentwood | 11819 Wilshire Boulevard Suite 213, Los Angeles CA 90046 |
| 11/20/23 - 12/1/23 | Pure Barre Downtown LA | 740 South Olive Street Suite 106, Los Angeles CA 90025 |
| 12/11/23 - 12/22/23 | Pure Barre Newport Beach | 234 East 17th Street Suite 116, Costa Mesa CA |
| 12/11/23 - 12/22/23 | Pure Barre Irvine | 6791 Quail Hill Parkway , Irvine CA 92627 |
| 12/11/23 - 12/22/23 | Pure Barre Huntington Beach | 7101 Yorktown Avenue Suite 101, Huntington Beach CA 92603 |
| 12/11/23 - 12/22/23 | Pure Barre Tustin | 17245 East 17th Street Suite C, Tustin CA 92648 |
| 12/11/23 - 12/22/23 | Pure Barre Brea | 407 West Imperial Highway Suite E, Brea CA 92780 |
| 12/11/23 - 12/22/23 | Pure Barre San Clemente | 1041 Avenida Pico Suite A, San Clemente CA 92821 |
| 12/11/23 - 12/22/23 | Pure Barre Mission Viejo | 28321 Marguerite Parkway Suite 201, Mission Viejo CA 92673 |
| 12/11/23 - 12/22/23 | Pure Barre Rossmoor | Seal Beach | 12151 Seal Beach Boulevard Suite A, Rossmoor CA 92691 |
| 12/11/23 - 12/22/23 | Pure Barre San Pedro | 28134 S. Western Avenue , San Pedro CA 90740 |
| 12/11/23 - 12/22/23 | Pure Barre Eastvale | 14063 Limonite Avenue Suite 120, Eastvale CA 90732 |