Video showing Double Dark Chocolate bar breaking showing texture
Decorative video of ingredients moving around Double Dark Chocolate bar
Meet Double Dark Chocolate
Why not double deep dive into rich chocolate with this limited-batch dark chocolate delight! Indulge in freshly ground peanut butter mixed with cocoa and topped with fair trade dark chocolate chips. Balanced just right with a touch of vanilla and blended with a subtle pinch of sea salt for an almost too-good-to-be-true chocolatey bite. Get ready to fall in love with chocolate all over again!
Ingredients
INGREDIENTS: Peanut Butter*, Honey*, Nonfat Dry Milk*, Dark Chocolate*† (Chocolate*, Cane Sugar*, Cocoa Butter*, Sunflower Lecithin), Cocoa*, Dried Whole Egg Powder*, Rice Protein*, Sea Salt, Vanilla Extract*, Cocoa Extract*, Sunflower Lecithin*, Dried Whole Food Powders (Kale*, Flax Seed*, Rose Hip*, Orange*, Lemon*, Papaya*, Tomato*, Apple*, Alfalfa*, Celery*, Kelp*, Dulse*, Carrot*, Spinach*), Flax Seed Oil*, Sunflower Oil*, Sesame Seed Oil*, Olive Oil*, Pumpkin Seed Oil*.
*Organic †Fair Trade Chocolate
ALLERGEN WARNING: CONTAINS PEANUTS, MILK AND EGGS. PRODUCED ON EQUIPMENT ALSO HANDLING TREE NUTS. MAY CONTAIN OCCASIONAL NUT SHELLS.
Nutritional Information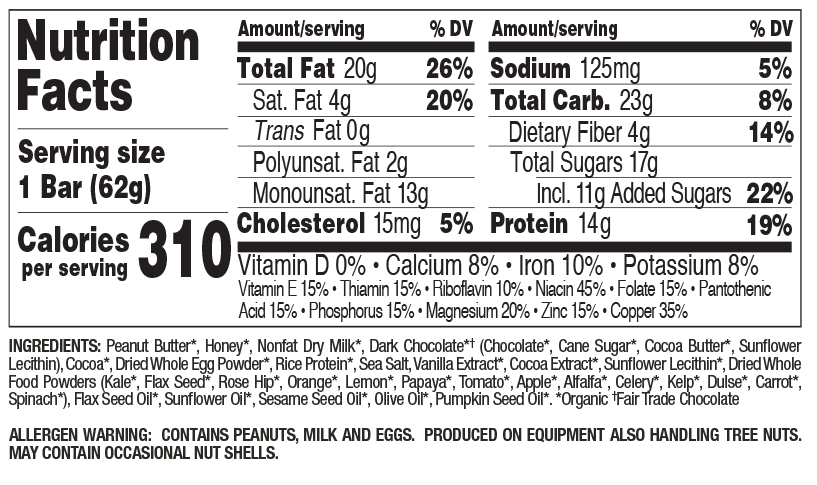 Double Dark Chocolate Reviews