Video showing Chocolate Chip Peanut Butter Bites bar breaking showing texture
Chocolate Chip Peanut Butter Bites
Decorative video of ingredients moving around Chocolate Chip Peanut Butter Bites bar
Meet Chocolate Chip Peanut Butter Bites
Perfect Bites are portable, nutritious snacks crafted to keep you on track, on the go and happy from the inside out. Made with freshly ground peanut butter, organic honey, 20 organic superfoods, and Fair Trade dark chocolate chips, Chocolate Chip Peanut Butter Perfect Bites is here for you, one pop-able, crave-able bite!
Ingredients
INGREDIENTS: Peanut Butter*, Honey*, Dark Chocolate*† (Chocolate*, Cane Sugar*, Cocoa Butter*, Sunflower Lecithin), Nonfat Dry Milk*, Rice Protein*, Dried Whole Egg Powder*, Sunflower Oil*, Sunflower Lecithin*, Cocoa Extract, Vanilla Extract*, Dried Whole Food Powders (Kale*, Flax Seed*, Rose Hip*, Orange*, Lemon*, Papaya*, Tomato*, Apple*, Alfalfa*, Celery*, Kelp*, Dulse*, Carrot*, Spinach*), Sea Salt, Flax Seed Oil*, Sesame Seed Oil*, Olive Oil*, Pumpkin Seed Oil*.
*Organic †Fair Trade Chocolate
ALLERGEN WARNING: CONTAINS PEANUTS, MILK AND EGGS. PRODUCED ON EQUIPMENT ALSO HANDLING TREE NUTS. MAY CONTAIN OCCASIONAL NUT SHELLS.
Nutritional Information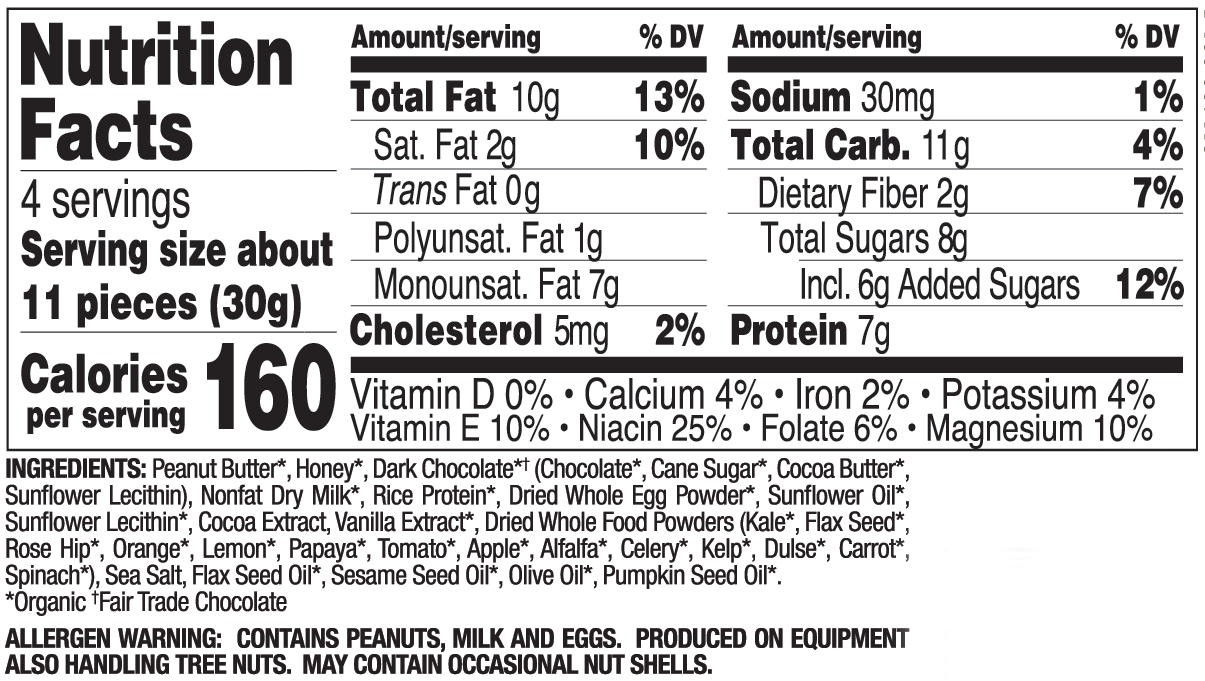 Chocolate Chip Peanut Butter Bites Reviews